FLORA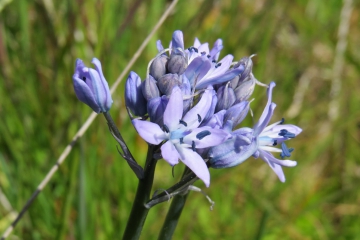 > Hyacinthoides vicentina
Family: Asparagaceae
Herbaceous perennial plant with a scaly bulb, which allows it to completely renew itself every year.
It has few long leaves (3-5) that grow directly in the bulb.
The flowers are blue-violet with 6 tepals and two bratcs at the basis shaped as an open star.
Jan
Feb
Mar
Apr
May
Jun
Jul
Aug
Sep
Oct
Nov
Dec
They grow in clayey, sandy or rocky soils with temporary flooding, sometimes in the water margins or in shady environments.
It is found, frequently, near the Mediterranean Temporary Ponds.
It is a Portuguese endemism which is internationally recognized with a vulnerable status (Walter and Gillet, 1997).

At the national level it also receives the status of vulnerable (Ramos Lopes & Carvalho, 1990) and rare (Dray, 1985).

It is legally protected by the Habitats Directive 92/43/CEE (annexes II and IV).